About David Short- Artist
David Short was born in 1940 in the city of Nottingham and from an early age was encouraged to pursue his interest in art.
After continuing this interest at school, he later attended the Nottingham School of Art, then painting as an amateur for several years, spending a great amount of time in Devon and Cornwall studying the sea and inshore boats.
In order to support this interest in painting he worked for several years as a market trader dealing in Nottingham lace.
His interest in art grew and he began to study the works of 19th century artists, such as Henry Redmore.
One critic observed after studying an oil on canvas painting David had completed of fighting ships (pictured below):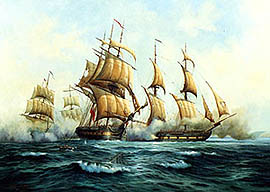 "You can see that the painting has life, movement and great detail. The encounter of these large man o' war ships is in such fine detail one can almost hear the battle taking place from the artist's vision of the guns firing and giving off smoke. The swell of the waves adds to the perspective of the boats in order to bring the scene alive."